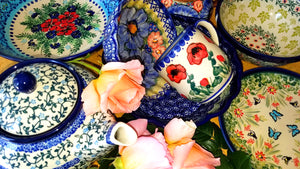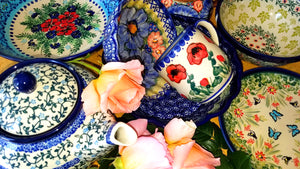 thousands OF PIECES TO CHOOSE FROM!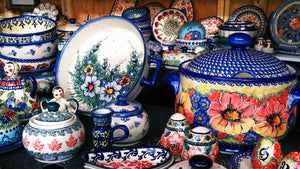 Unique tableware for a modern home
Polish Pottery from boleslawiec
fire & clay transformed into stone that will last a lifetime
WELCOME TO HOME OF POLISH POTTERY
OLD WORLD BEAUTY FOR YOUR MODERN HOME
Since our launch over twenty years ago, we at Home of Polish Pottery have brought the exceptional handcrafted stoneware pottery of Boleslawiec artisans to North America. Our catalog features both the highly sought after designs of Unikat and Traditional patterns as well as Eva's Collection created exclusively for this design house. It is our hope that you will treat yourself to something from our curated collection of superb, authentic, stoneware quality Polish pottery that will enrich your dining experience with its beauty for years to come.
★★★★★

"I am so very pleased with the beautiful and superb quality of my purchase. It brings beauty to my table and the pieces are practical and exactly as described."

Michelle R.

Butter Dish - Isabelle
★★★★★

"We use our pieces for display and to cook and serve. They're gorgeous and functional, beautiful and durable."

Laura S.

Martina - Eva's Collection
★★★★★

"I love every single piece I have bought from Home of Polish Pottery. Ewa is fantastic! She is always available to answer questions and get you exactly what you want! I look forwarding to all the new patters!"

Katherine H.
★★★★★

"It doesn't get more fantastic than this! I received this bowl for christmas and used it to warm and serve a 7.5 pound Honeybaked ham. The handles on this huge bowl were so nice to have because a big ham is heavy!"

Dawn

Serving Bowl with Handles - Blue Garden
★★★★★

"I enjoy giving Polish pottery for wedding gifts. The piece I ordered is beautiful and I know the couple receiving this bowl will enjoy if for many years."

Maureen Q.

Serving Bowl with Handles - Alex
★★★★★

"I had just started collecting Polish Pottery when I saw a Veronica piece in a friend's kitchen and thought it was absolutely beautiful. I can't hardly wait to add other Veronica pieces to my own collection. Especially since the oval baking dish arrived so quickly and was so well wrapped."

Carol C.

Oval Baking Dish - Veronica
★★★★★

"When I unwrapped the two plates I immediately smiled as memories of sweet Fall rushed through me. I love them."

Myla K.

Dinner Plates - Vermont
★★★★★

"This bowl is STUNNING! If you love the beautiful blues of authentic Polish Pottery, this bowl won't disappoint. It was designed by the owner Ewa and hand-painted exclusively for Home of Polish Pottery. I am so beyond thrilled to add this one to my growing collection."

Dawn

Serving Bowl with Handles - Blue Garden
★★★★★

"I appreciated that the gift was well packed and protected for shipping and included an enclosed information card detailing the care and use of the pottery. I am extremely satisfied."

Maureen Q.

Serving Bowl with Handles - Alex